S
ingapore is the world only island city-state, also known as the Lion City, the Garden City or the Red Dot. Considered the most modern, civilized and expensive country from all Southeast Asia. Ranked 7th in the world on the cost of living index, higher than San Francisco (9th) but behind New York City (5th). Amazing architecture, incredibly well organized and clean, with a significant combination of Chinese,
Indian, Malay and Western influences, Singapore is truly a cultural melting pot.
Delicious food, high street shopping, contemporary arts, a lot of leisure activities, amazing parks, everything it needs to make it "perfect". We were quite impressed with all of it and, in the end, we comment with each other about living there for a while.


Top places to visit
Marina Bay
Sentosa Island
Clarke Quay

Gardens by the Bay
Botanical Garden
Chinatown
Little India
Standard prices
Currency: Singapore Dollar 1,50 SGD ≈ 1 EUR
Accommodation: This is the most expensive country in Southeast Asia. Double rooms start from 50 SGD. A dormitory bed cost around 14 SGD per night in a medium hostel.
Food: Average meal price in a restaurant cost about 15-20 SGD. In Chinatown and Little India districts, you will find plenty of food markets where the food is much cheaper. A big plate of rice with pork cost 5 SGD.
Transportation: Metro is the best means of transportation – cheap, clean and will reach everywhere. In fact, the metro is two networks: MRT and LRT. Even at a few days stay it is worth to invest in EZ-card (multi-ride card).
In Singapore, there are practically no traffic jams, so the bus is often as good as the metro.
Taxis are expensive enough that they become completely unprofitable (unless nightly return home). A big plus is the honesty of the driver – they always use the meter and do not cheat.
Activities: There is an incredible amount of things to do around Marina Bay. Take a walk or a cruise (20 SGD) along the Singapore River (especially in the evening when everything is beautifully lighted). Do not miss the free water show on Marina Bay Sands (every day at 20:00). Take a ride on Singapore Flyer and enjoy the view of the entire city. Visit the modern Gardens By The Bay and see the forest through the eyes of a bird. If you have more time, go to Sentosa Island where you can explore the Underwater World (40 SGD) or the Universal Studio (74 SGD).
Travel Tips
Visa: European Union citizens are allowed to enter Singapore for 90 days without a visa. When entering the territory of Singapore must have a return ticket or onward journey. There is no obligation to hold a certain amount of money for each day of stay. The required validity of the passport for entry is at least 6 months.
Food: If you are a budget traveler, eat in Chinatown and Little India. There you will find food markets with typical, affordable and tasty dishes of these ethnic groups.
Best time to visit: Singapore can be visited all year round. From November to January it may rain lightly but there is always more than 30 degrees.
Our experience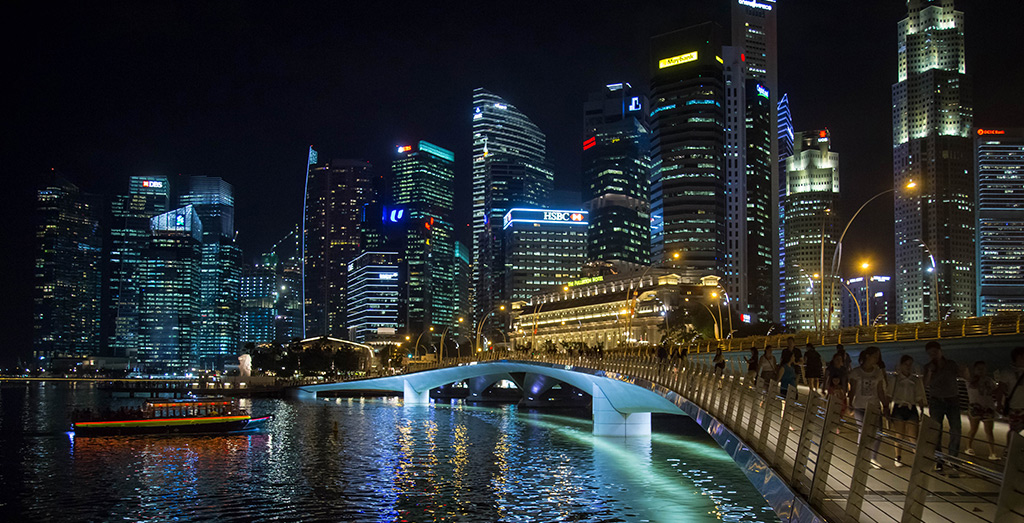 SINGAPORE – THE LION CITY
It was about 4:00 PM when we landed in Singapore, a smooth flight of 3 hrs with Airasia. Visa is not required and in the immigration office, we received a stamp for a period of 90 days…Read more.