T
raveling in Cambodia can be a confusing experience. A country of pristine landscapes, broad smiles and yet remains a place where politics are volatile, poverty rife and the wounds of the Khmer Rouge years are still fresh. The temples of Angkor are just the beginning of the story. The country is growing fast and if it will keep this rate,
the sentence " Rich as Cambodia" will acquire a true meaning again.
From the northeast's jungles to the little-known Sihanoukville's beaches, Cambodia has a lot to offer. The Angkor Complex in Siem Reap is a notorious proof, a place that changed from a dusty backwater to a five-star town receiving millions of people yearly.


Top places to visit
Koh Rong Samloem
Phnom Penh
Siem Reap
Sihanoukville
Standard prices
Currency: Cambodian Riel 4,000 KHR ≈ 1 EUR (The US dollar is also used as currency)
Accommodation: You will easily find a double room with bathroom and swimming pool for about 40,000 – 50,000 KHR. A bed in a dormitory starts from 18,000 KHR. Exclusive hotel will cost from 100,000 KHR.
Food: In general is cheap. You can get street food from 4,000 KHR per portion. In the restaurant the prices are higher. For a western meal, you will pay around 15,000 KHR.
Transportation: There are good links with the capital and several companies offer day and night buses to the main points of the country from $5. Ferries from Phnom Penh to Siem Reap are for $25 one way. Tuk Tuk is the most popular mean of transport and the minimum price is $3. For long distances, you also can go by taxi e.g. from Phnom Penh to Sihanoukville for $50.
Activities: Touring the Angkor Complex is one of the main activities in Cambodia. the entrance fee starts from 20$ for one day pass, $40 for three days and $60 for seven days. Other popular activities can be a visit the Mekong Delta by boat, Tonle Sap cruise, Silk Farms. For hiking try The Cardamom Mountains and for elephant treks Mondulkiri and Ratanakiri's crater lakes in the mountainous northeast.
Travel Tips
Visa: Most nationalities can obtain a one-month tourist Visa upon arrival for $30. Land border crossings, the fee can be more expensive as the cost is paid in Thai baht (around 1200 baht). You will need two passport photos to apply, or you will be charged extra (around $1-2).
IMPORTANT – Passports must be valid for up to 6 months before entering.For more information and contact details, here.
Food: Try he Cambodian specialities like fish Amok, Nom banh chok (Khmer noodles) and Samlor Machu Trey (sweet and sour soup with fish).
Scams: Be prepared and check how much the basic things cost before you get there. Don't buy anything for an orphanage, they have an inside deal with the sellers and right after your visit they bring the products back and share the money.
Best time to visit: We advise you to travel from November to April (dry season 20-30 degrees). From May to October is the monsoon season.
Bargain: Haggle hard with Tuk Tuk drivers, the minimum price for a ride is 3$. One day tour to Angkor Complex cost by tuk tuk cost around $12-$15.
Our experience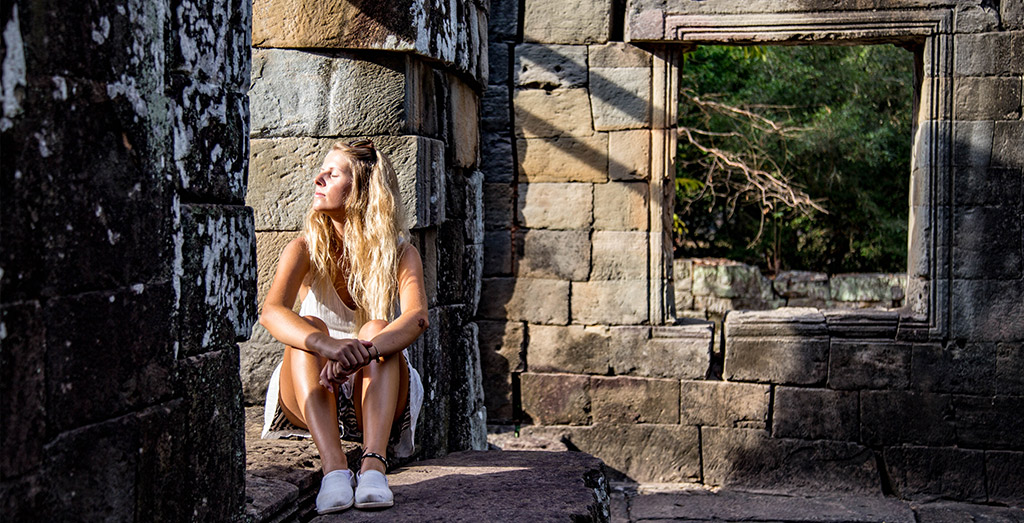 SIEM REAP AND THE ANGKOR TEMPLES – PART I
It was around 11:30 PM when we got on board the night bus from Phnom Penh to Siem Reap in northern Cambodia. The closest city to the world famous Angkor Temple Complex, an archeological Park containing the remains of the different capitals of the…Read more.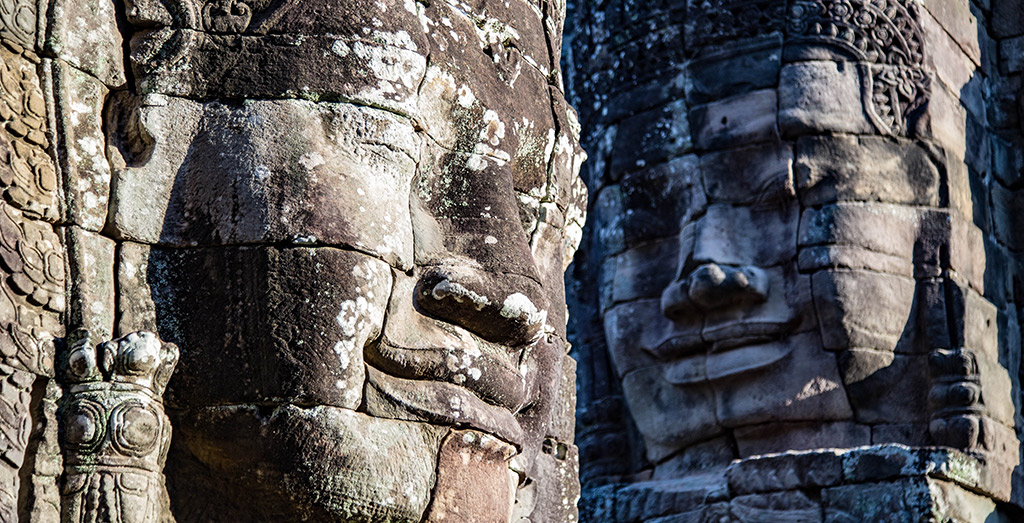 SIEM REAP AND THE ANGKOR TEMPLES – PART II
From all Angkor temples, Bayon was one of our favorites and the best known for being characterized by 200 carved smiling faces on its towers. Considered the "Mona Lisa of Southeast Asia", some scholars state, the statues portray…Read more.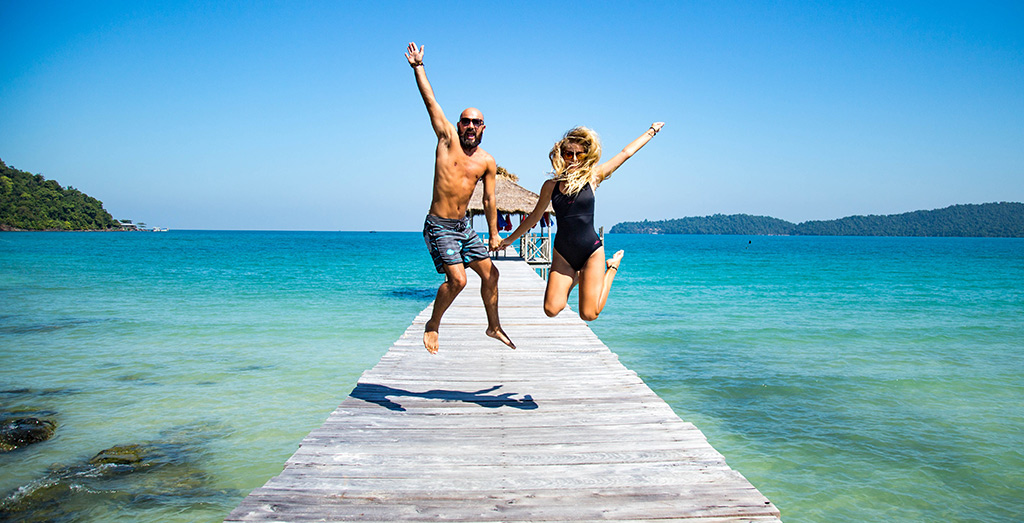 KOH RONG SAMLOEM – THE SECRET ISLAND
Koh Rong Samloem is one of those places you want to keep only for yourself. That's why we call it the secret island. A hidden gem without tourists, roads, ATMs, and main electricity. All the resorts are powered by their own gasoline generators…Read more.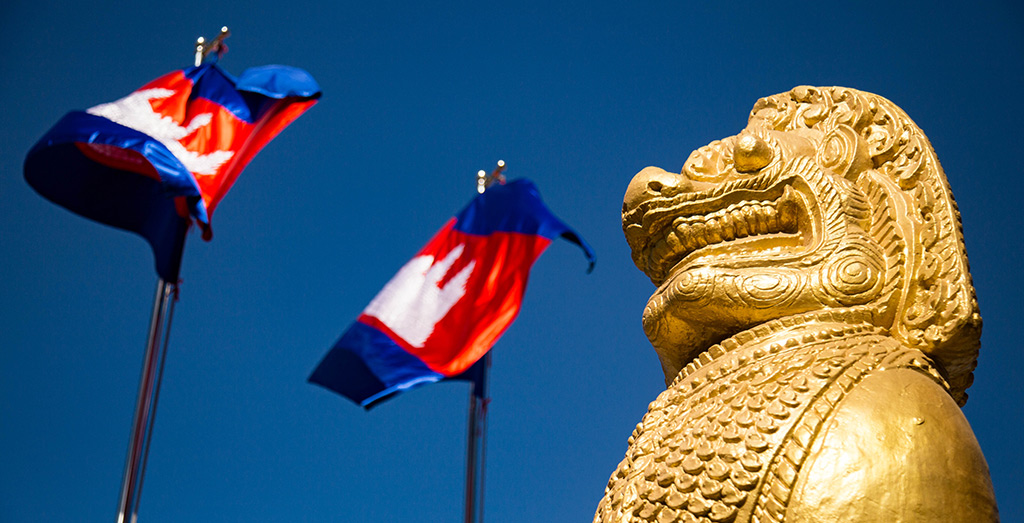 PHNOM PENH – THE LAND OF OPPORTUNITY
Phnom Penh is the vivid capital of Cambodia located at the junction of three rivers, the Mekong, the Bassac and the Tonle Sap. During the 20s was considered as the "Pearl of Asia" due to its modernity, an exotic combination of French architecture…Read more.